Today I wanted to share our story. I ask that those of you who have taken the time to read this blog light a candle and burn it for one hour tonight, between 7-8 pm your local time. This will be symbolic of National Pregnancy and Infant Loss Remembrance Day (PAIL), today, October 15, 2018.
There are many clubs, associations and causes that I've been part of in my life; this club however is one that no person should ever have to be part of, Infant/Prenatal Loss. Today, I'm sharing our story of Luke Carl Racklin. I felt it is appropriate because my grieving is now approaching 12 weeks from Luke's death, and today is National Pregnancy and Infant Loss Awareness Day.
The past 12 weeks have challenged me in ways no one is able to prepare for. I have experienced heart breaking loss, anger, deep sadness, fear, and questioned my faith. I have been searching for answers we will never have, and I have to remain strong for my husband and my other three children. They all need my strength. I can't fall apart and show my grieving, though daily the emotions are certainly unpredictable and much like a roller coaster.
I've been told by those closest to me that I'm the strongest woman they have ever known. I've been praised for holding it together and going about my life as though nothing has changed. The truth is, our lives have changed. We have experienced pain that I wouldn't wish on my worst enemy. This pain may get easier to deal with overtime, but it will never go away.
January 25, 2018 was such a happy day. It was in our minds one of the happiest days of our lives together. It was my husband Anton's birthday and the day I showed him an ultrasound of our 9-week old baby. Our son Jake, then 8 months old, was wearing a onesie that said, "Big Brother." It took my husband a few seconds for it to set in and lifted up Jake to see the onesie with those words "Big Brother."
Not wanting to assume anything, he looked at me with tears in his eyes and leaped for joy. We both cried and laughed and started to plan the future, our family would be complete. We would have four children (my two oldest Bella 15 and Alec 11 from a prior marriage and Jake 8 months old). Having a fourth child is something we imagined for Jake, but didn't know if it was biologically possible.
We stayed up late many nights dreaming about the life we would have with these two boys. The adventures they would have, the trouble they would get into, and the unbreakable bond that two brothers so close in age would have. Jake would have an instant best friend for life. They would be 14 months apart in age and grow up together, while their older siblings Bella and Alec would go off to college and begin their lives away from home. We had comfort in the fact that Jake and Luke would have each other.
Being pregnant with Luke was such a miracle because of a couple of glaring facts; I'm over 40, and we went through three rounds of IVF to conceive Jake. When we conceived with Jake in 2016, we found out we were pregnant with twins. TWINS! We couldn't have been more excited. After seeing our little babies on ultrasound, strong heartbeats and flutters, we knew our family would be complete.
Unfortunately, at 10 weeks gestation we lost a twin to vanishing twin syndrome. I had bleeding for a month straight, and each day feared I would also lose Jake. It was a long scary pregnancy for me with Jake. Fearing the possibility of a miscarriage for the first six months. Then we were in the clear. We made it through with no complications. We had our beautiful healthy baby boy Jake, born on May 17, 2017. We never really focused on the loss of the twin and kept so focused on what we had, not what we lost in Jake's twin.
Fast forward to January 25, 2018, and you'll now understand why for us to conceive naturally with Luke was the greatest gift we could imagine.
I did everything "right" in this pregnancy with Luke. More than ever I felt blessed by God with the life growing inside of me. I was so very happy and felt such an unexplained inner peace. This baby was going to be a part of such a loving family, and we counted down the days until Luke's arrival. I made sure to go to the "top doctors"in the northern Virginia area with routine high definition ultrasounds. I ate healthy, and stayed away from sushi, wine, and caffeinated coffee.
This pregnancy was the easiest of all of my pregnancies. I felt great. Luke was an active baby always moving around and growing by leaps and bounds. He was a big boy, and he made sure to let me know by his constant kicks and jabs. Those wonderful love taps that I would do anything in this world to feel again.
The pregnancy was non eventful, just as we and the doctors wanted it to be. The only concern my doctors had was my thin uterine lining due to three previous C-sections and the fact that Luke was expected to be born so closely to my pregnancy with Jake. Doctors usually recommend waiting 12 months between pregnancies to conceive for various reasons. Due to my thin uterine lining, I was placed on pelvic rest. No lifting, no exercise, and no traveling for the last three months of the pregnancy. The doctors assured me that this was precautionary and nothing to be too concerned with. With the thin lining my delivery date was moved up to August 9, 2018. The doctors didn't want to risk my going into labor and rupturing my uterus and hemorrhaging.
It was very difficult for me to give up exercising as I've always been a very active person and being fit is a big part of my lifestyle. I had to mentally tell myself that it's ok that I'll have gained 40 pounds by the end of this pregnancy, and that I still had 10 more pounds of baby weight to lose after my pregnancy with Jake. Jake was five months old and I was pregnant again, no time to lose all of the weight. It's funny now to even think about something as superficial as my weight, when my body has grown two beautiful baby boys in under 15 months, not to mention two other beautiful children. The truth is, we women put so much pressure on ourselves to look like the celebrity pregnant moms on social media who still wear skinny jeans at nine-months pregnant and then fit into their normal jeans a month after delivery. This is not the reality for the majority of us.
I'm 8 months pregnant with Luke on July 23, 2018. Anton and I are at the hospital for our routine ultrasound and doctor's visit. We were excited to see how much Luke had grown and look at his beautiful face. The last couple of visits we were able to see his long eyelashes and his head of hair. Each visit we had an ultrasound which made us more excited for Luke's arrival. Our appointment that day was perfect. No concerns. My fluid levels were normal, Luke was moving around (though much less than usual), heartbeat was strong. We left the appointment with the doctor confirming my delivery date would be in two weeks and two days. We had it on the calendar, and we couldn't wait.
July 24, 2018 started just like every other day. It was a Tuesday and I started my day by getting Bella and Alec off to school, Jake his breakfast, waiting for our nanny to arrive. I had a very busy work day ahead of me.
In addition to being a Mom of soon to be four, I'm a VP at a global marketing company. My job is very demanding and has always required a level of intensity and results, as well as travel. With that, we were closing in on the end of the month, and I was feeling pressure to close out July with a couple of outstanding client contracts. I love being a working Mom, for me it has made me a better mother and wife working outside of the home. Many balls in the air! But I wouldn't have it any other way.
I had remembered that I was meeting my college roommate for lunch that day and knew my schedule was packed, but I was looking forward to seeing my old friend and delivering a pair of earrings she had ordered from our Jake Racklin jewelry company. Yes, we also have a jewelry company. As if we aren't busy enough with our jobs and children, we are also entrepreneurs. Our weekends and late nights have consisted of us building a custom jewelry company, a couple of years in the making. It's been a passion of ours and continues to be a creative outlet for Anton and me.
Walking into Neiman Marcus café in Tyson's corner I was joined by my friend and we enjoyed lunch and conversation about work, babies and reminisced about the past. I did notice during lunch that Luke hadn't been moving that day. It was something that struck me, but I didn't pay it much attention being that I had just been at the doctor 20 hours prior. We finished lunch, and I realized I needed to get back to my home office for a client call.
On my way home, I again noticed that Luke hadn't been kicking. I always felt him moving, more than any of my other children. On my short drive home, I decided to stop at Starbucks and get an iced coffee, I thought maybe the caffeine would wake Luke up, and he would start to kick. I stopped at Starbucks and got back to my office for my client call. As I was on the call, I focused on my tummy and started growing concerned that Luke still wasn't moving after I finished my coffee. I finished my call and then went to lay on the couch. I started to move my belly around shaking it and trying to get Luke to show me some sign of movement. Nothing happened. At this point I was worried, but continued to think about my perfect ultrasound just 24 hours prior.
I called my doctor. I told her I wasn't feeling any movement. She asked "any movement or less movement?" I responded, "no movement." She told me to come into the hospital birthing center triage. I was still thinking everything was fine, I was just at the doctor, and I'm only two weeks away from delivery. I thought nothing could be wrong or serious. Most mothers don't worry about losing their baby when they are this close to delivery and when your pregnancy and baby have been completely normal and healthy for eight months. The thought of losing Luke wasn't even something on the list of things I worried about at this stage. I worried about my C-section. I worried about my scar. In hindsight, the permanent physical scar on my abdomen was the most insignificant result of what we were about to face.
Anton returned from work and I calmly told him that we need to go to the hospital but I'm sure it's fine; however, Luke isn't moving today. I didn't want to worry my older children or Anton. Bella was with Jake and we told her that I just needed to get a quick check-up and we would be home in a couple of hours at most. She needed to feed and take care of her baby brother.
As we drove to the hospital, only a short drive from the house, I started having contractions. This was not a good sign. The reason my C-section was scheduled for two weeks from that day was to avoid my going into labor and the potential to rupture my uterus and hemorrhage. It was extremely dangerous and could be fatal for me and the baby. I looked at Anton and told him, "I'm having contractions., He said, "isn't that a good sign, and I said "no it isn't a good sign." At that time, I was more worried about my health and my probability to be rushed into an emergency C-section, than I ever thought about Luke's life being in jeopardy.
We arrived at the hospital birthing center triage. Entering the cold room, the nurse told me to undress, put on the gown and she would be back in with the heartbeat monitoring belt. We waited what felt like an eternity for her to return. Upon her return is where the beginning of our nightmare and worst fears came true. The nurse strapped the belt on my belly and moved the monitor all around. Nothing. She asked me if he was breech, I said no. She had a worried look on her face. At that moment, I knew. I knew the worst possible thing to happen to any parent was about to be our new reality. The nurse told us she needed to get the doctor and the ultrasound machine. Quickly a doctor entered the room with additional nurses. My belly was covered in the cold gel as they looked at the ultrasound. I saw my son's lifeless body on the screen. It couldn't be true. This wasn't possible. This doesn't happen. I was in shock. We were in disbelief.
The following 6 hours were horrific. The greatest fear and emotional and physical pain that I've ever experienced. Anton and I held hands and cried as I lay on the hospital bed trying to process what had just happened. And the words, "Your baby has passed." "Passed?" How is this even possible? I was at one of the best hospitals, had the top doctor in the area.  I was healthy, my baby was healthy. I was JUST here for ultrasound 24 hours prior, and all was perfect. HOW? How does something like this happen? I needed answers. Answers that to this day that I have to accept that I will never have.
I had a team of nurses and doctors come into the room to begin IV's in both of my arms. They said my contractions were increasing, they said they needed to make sure I didn't have internal bleeding. I was going to be prepped immediately for an emergency C-section to deliver my dead baby.
All of this was happening at lightening speed, and my other children were at home. We had told them we would be back in a couple of hours. We don't have any local family. What were we going to do? I quickly texted my sister who lives in Blacksburg VA, about a 4-hour drive away. She was already lined up to take care of my kids in two weeks when we were supposed to deliver Luke. She is my rock, the one I can always count on. I texted her, "come now. I need you now." She responded "BABY?!!" And my response was, "no, we lost the baby". No conversations with my sister, just texts. She jumped into the car and drove immediately to my house not knowing anything that was happening to me or my physical condition. I also called my ex-husband whom I'm fortunate to have a good relationship with, and who lives half a mile from me. I told him that I lost the baby, and that I'm prepping for an emergency C-section. I asked him not to tell our older children as I didn't want them to worry. He came to my house to help with the kids until my sister arrived. I made certain Anton called his parents in Sweden. His Mom is a nurse, and she would be able to give some advice and support. He needed his family going through this unfathomable pain.
In the hospital waiting to be prepped for the emergency C-section, I wanted my doctor. I wanted someone I knew and trusted there with me. That wasn't possible. The couple of doctors  I routinely saw weren't on call, and my regular doctor just had shoulder surgery and couldn't preform my C-section. I was terrified–terrified by the unknown and fear of all of the things that could go wrong in an emergency C-section. I was in tremendous fear that not only did my husband lose his son, he could possibly lose his wife too. I couldn't stop thinking that my three children could lose their Mom. I could die. I didn't get to say goodbye. I didn't get to kiss my kids and tell them I loved them. I didn't know when and if I would see them again. All of these thoughts and fears were very real and terrifying.
The nurses brought me to pre-op to begin getting me ready for surgery. Anton couldn't be with me. I was alone with my thoughts and fears. I didn't want him to leave my side, or be away from me for even a second. It was gut wrenching. Suddenly, I looked up at the door opening and my doctor was there. She greeted me with tears. She couldn't operate on me because of her surgery, but she was there to hold my hand and not leave my side through the next several hours of hell.
My doctor came with me for the spinal block and then they laid me on the table in a bright cold room and finished prepping me for surgery. Then my husband came in, tears in his eyes as he was on my left side, and my doctor on my right side. Each of them held my hands and said nothing. What could they possibly say? The doctor performing my surgery had told me that based on the situation at hand, that they were going to do a vertical cut down my belly button. It was the safest way for me to deliver the baby. With tears running down my face, I thought for a moment about the ugly scar I would have down my stomach, a forever reminder of my baby that died. I thought, I'll never wear a bikini again and be proud of my flat stomach (the one part of my body I actually always felt proud of). Those thoughts went away pretty quickly as I realized that this was a potential life or death situation for me now. The most trivial thought was that of a scar?!!! I now know that scars are reminders of pain that we have endured, pain that tells a story. A story I wish I could erase from my life.
The surgery was a blur. It was long. With three previous pregnancies, the anticipation of your babies' first cries is one of the most joyful experiences parents ever have. For me, I didn't even know they had delivered Luke until I saw the nurse place him on the scale and do his weight and height. I cried. We all cried. The pain and reality of our situation was taking my breath away. It was so deep and so intense that it was hard to bear.
Luke was 6 pounds 10 ounces and 21 inches long. I was 36 weeks pregnant. "He's beautiful the doctor told me." They asked if I wanted to hold him as they stitched me up. They asked if I wanted him on my chest. I replied, no. I couldn't see him or hold him at that moment. The pain was too intense. I needed to stay strong through the remainder of my surgery, and I needed to get through closing me up before I could think of holding my dead son.
Anton left with the nurses and Luke. They cleaned him up, dressed him in a onesie, hat and a blanket and placed him in the bassinet. The difference with Luke's bassinet is that it's machine cooled to a temperature of 40 degrees to keep the body cool so and well preserved. At that time, I still haven't seen Luke. Anton and I have never talked about his story, what he encountered when he left with Luke and the nurses while I was still being stitched up after surgery.
The nurses brought me to post-op recovery. This is where the new mothers breastfeed and bond with your baby for a couple of hours. Once both mom and baby have stable vital signs and body temperatures, they are released to their hospital room.
When I arrived in my room, Anton sat next to the bassinet with Luke. The nurses transferred me to the bed and this is the first time I laid eyes on my son. As I looked at him all I could see was a perfect baby boy. He had my lips and mouth, his brother Jake's nose, and his face resembled his brother Alec. His wavy brown hair like his sister Bella. The tears couldn't stop falling. He looked like a sleeping angel. The nurses continued to ask me if I wanted to hold him. I wasn't ready. I couldn't do it. My husband held him. The image of my poor sweet husband rocking his dead son in his arms is an image I'll never be able to erase from my mind. I felt like I somehow failed him. I failed him as his wife. Did I do something to cause Luke's death? What did I do wrong? Could it have been having coffee when I wasn't supposed to? What's wrong with me that caused Luke to pass away?
The nurses came and presented me with a memory box. In the box was pictures they took of Luke. A hat, onesie, blanket, and other mementos. They presented us with a death certificate that had the date, his name and his hand and foot prints. He had such big hands and feet. He was such a big boy. I thought about the fact that in the NICU there are babies that have survived being only 1 pound, babies that are born several months premature. These babies will live. These babies survive. Why not Luke? How could a baby almost seven  pounds with no birth defects die? How? The doctors and nurses did not have any answers.
The hospital sent a man to take us to my permanent room where I would be recovering from the C-section for five days. When the staff arrived to take me to the room the first thing he said as he looked at Luke in the bassinet was "congratulations." It wasn't his fault; he didn't know that Luke wasn't just a sleeping newborn. This was a stab in the heart and tears continued to flow.
The next five days in the hospital consisted of many visits from grief counselors, doctors , and nurses that not only cared for my physical health, but our mental health as well. The staff at Fairfax INOVA were absolutely incredible. They cried with us, they cared for us, and they kept baby Luke by our side in our hospital room for our entire stay. This was something that upon first recommendation I felt to be very odd. Keep your dead baby in your room with you? Isn't that strange and could it make all of this grieving worse? In talking with the experts and reading blogs about infant loss, we knew it was the right thing to do. Having him with us, like he was sleeping in his cooled bassinet, allowed us to grieve and accept our loss. It gave me the chance to hold him and rock him and study his face.
I finally was ready to hold him, about 12 hours after he was delivered. I examined his big hands, I looked at his long legs. His perfect head with those wavy brown locks. I looked at his sweet lips that had naturally turned bluish. I looked at his little nose being reminded of his brother Jake's nose. He looked perfect. There weren't any signs of birth defects. How can this be? Isn't he going to wake up? I want to see the color of his eyes. I want to see those beautiful sparkling eyes behind his long lashes, but the reality is that I will never know the color of his eyes.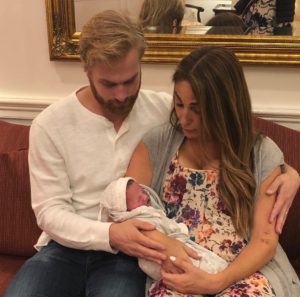 Our parents all arrived the following day. Anton's parents from Sweden and my parents and step parents from Blacksburg VA. They all wanted to have their private moments with Luke, their grandson. They wanted to see him, to hold him, to cry. They wanted to be strong to care for their grieving children, yet they found themselves being the ones that needed our strength.
I want to also call special attention to my incredible loving husband. This man did not leave my side through the entire experience and time in the hospital. He stayed as strong as he could and as connected to me as one could imagine. He climbed into bed to comfort me in my darkest of hours. I will never forget when he said to me that he had never been to a funeral and that the first one would be of his son. To see my husband, hold his dead son and cry unstoppable tears was so incredibly heart breaking. To see the combination of his strength and grief was something I will always remember, yet hope to never experience to this level again.
In the following days I was told we need to plan Luke's funeral. We needed to decide where he would be buried, cremation or burial, find a funeral home, the list goes on and on. My head was spinning as I lay in my hospital bed in tremendous physical pain from the major surgery I just endured.
The day I was released from the hospital I was wheeled down to patient pickup. No baby in my arms. No flowers and balloons for congratulations. Instead it was sympathy balloons and empty arms. Going home was both wonderful, being that I just wanted my children surrounding me with love, but couldn't help but feel such emptiness and loss. How can my other children begin to understand what just happened and how they lost their brother?
The first full day at home, my sister joined Anton and me at the funeral home—the funeral home we chose while researching online. We found a funeral home that would receive Luke after his autopsy was completed. They would dress him in an outfit we chose. We would have our private time with him the following week to say our goodbyes. We chose the gravesite for Luke. We found a spot that was with many other children that were stillborn. The cemetery has a beautiful "garden of angels," they call it. It is the resting place for all babies and children. This felt peaceful for us. It felt like the place we needed to put Luke to rest.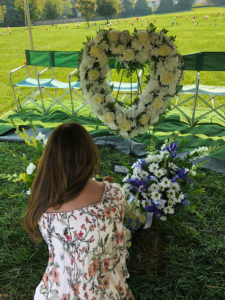 Our story continues with me being admitted back into the hospital the following day for a week of life threating post-partum complications, then the funeral of our son, and adjusting back to "normal" life. Adjusting back to inserting ourselves into the community where we get asked almost daily, how our baby is doing and how old he is now. Having to tell the Starbucks employees, the ChopT employees, extended friends in town, all of the people who mean well, that our son died and was stillborn. There is much more to tell of the grieving we have experienced over the past 12 weeks. There are details of my post-partum preeclampsia that was life threating, all of these things that I will continue to write and share some day.
I want to publicly thank the village surrounding us. Our companies and family and friends who have provided countless meals to fill our bellies, gorgeous flowers to brighten our home, keepsake ornaments, beautiful necklaces in remembrance of Luke, heartwarming cards, and the list goes on and on. All of these acts of kindness and love have helped us focus on what we have in our lives and not what we lost.
RIP Luke Carl Racklin our sweet baby boy. Forever in our hearts and dreams.